Do you ever feel like what you have to offer is too small to be of any use?  Whether it be musical talent, speaking ability, hospitality, finances or even time; I often feel as though what I can give is so much smaller than what others can do that it is insignificant, unimportant, or even useless.  How can God use our little bits when others can give so much more?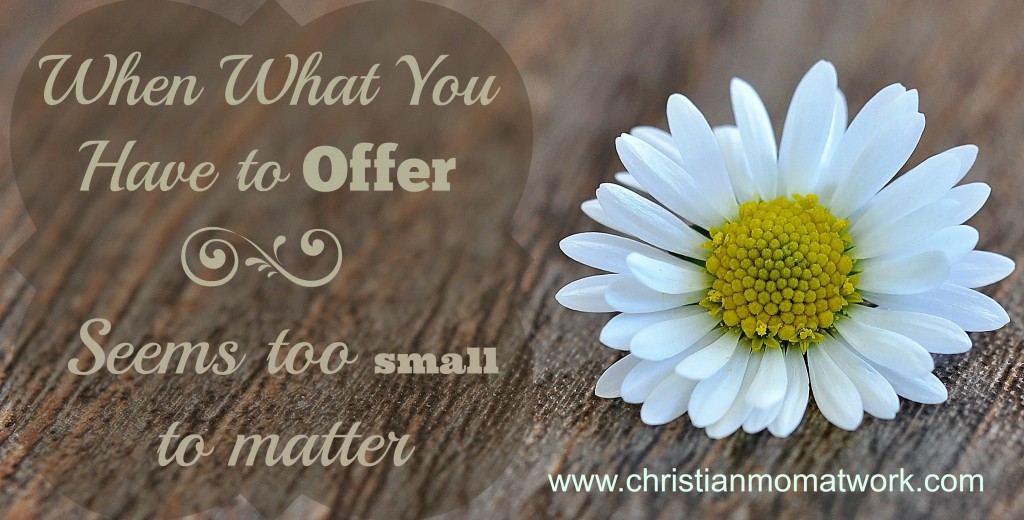 I find myself stuck in this train of thought all too often. But God is good, and he often sends me reminders of His love and care for me. And He shows me that while he doesn't necessarily call us to do GREAT things (though there are many who WILL do great things), He does call us to do GOOD things!
Ephesians 2:10 ~ "For we are His workmanship, created in Christ Jesus unto good works, which God hath before ordained that we should walk in them."
Micah 6:8 ~ "He hath shewed thee, O man, what is good; and what doth the Lord require of thee, but to do justly, and to love mercy, and to walk humbly with thy God."
 These are wonderful verses that tell us a great deal about what God would like us to do, or at least HOW to do, things here on Earth.  But what if you are like me, and you like to know a little more specifically what God wants us to do?
GOD WANTS US TO BE WILLING – Do you remember the Bible account about Jesus feeding the 5,000 (which is actually more like 15,000-20,000 since the Bible tells us it was 5,000 men PLUS women and children)? Jesus tells His disciples they need to feed all of those people, and when they check to see who might have food to share, Andrew comes back with this report:
 John 6:8 ~ "There is a lad here, which hath five barley loaves, and two small fishes:  but what are they among so many?"
Even the disciples, who had seen Jesus perform countless miracles, doubted what this small offering could do for this large crowd! Yet a young boy, who could plainly see how pitiful his small amount of food seemed in comparison to the need, was WILLING to give what he had, in spite of how meager it must have seemed.  And what happened next?  After everyone had been filled, there were twelve baskets of leftovers!  Jesus could easily have rained manna from Heaven, just like the Israelites had experienced in the wilderness, yet He used a small boy's lunch to bless a great crowd of people.  God rewards our willingness to be a blessing by giving the increase!
GOD WANTS US TO BE OBEDIENT – As I was trying to remember other places in the Bible that showed how God had blessed those who were faithful, I recalled the chronicle of the Widow at Zarephath. Elijah was instructed by God to go to Zarephath and find a widow who would sustain him while he stayed there.  When Elijah approached the woman to ask for a morsel of bread, she told him:
1 Kings 17:12 ~ "…As the Lord thy God liveth, I have not a cake, but an handful of meal in a barrel, and a little oil in a cruse: and, behold, I am gathering two sticks, that I may go in and dress it for me and my son, that we may eat it, and die."
Obviously, this was the last of the food that she had for her and her son, and did not see a means to get any more.  She was in a desperate situation for sure!  Elijah told her to go in and make a small cake for him first, and then make something for her and her son to eat afterwards.  Even though he promised that God would make sure that she did not run out of meal or oil, I have to think that was not an easy decision to make – to feed her son or this stranger with a very unusual promise.  Yet, she was OBEDIENT and did as he told her, and was blessed for her small act of kindness, which not only failed to deplete her supplies, her household was able to eat for MANY days on the repeatedly replenished meal and oil!
GOD WANTS US TO BE SACRIFICIAL – Do you remember the telling of the widow's mite? Jesus saw how people were casting their money into the treasury.  Those who were rich cast in much, but a certain poor widow put in just two mites.  Jesus said to His disciples:
Mark 12:43-44 ~ "…Verily I say unto you, that this poor widow hath cast more in, than all they which have cast into the treasury: for all they did cast in of their abundance; but she of her want did cast in all that she had, even all her living."
Neither Mark nor Luke tell us of any blessing the widow, or anyone else, received because of her actions.  Yet, we can see that Jesus clearly thought more of her small gift than the gifts of those who had much to put in.  Through these verses, we can know that when we have little to give, but make the SACRIFICE for the Kingdom of God, it pleases God – regardless of how useless WE may think our offering is.
I am sure that there are many, many other places in the Bible that tell us the great things that were done with small gifts, but these are the three that came to my mind.  I sincerely believe that there are two problems that cause us to hesitate to give/use our small gifts:
We compare our gifts to others and think we come up short – forgetting that God appreciates our sacrifices
We fail to recall what the power of God can do, so we doubt that our SMALL contributions can make a BIG difference
So in the end, no matter how meager your talent, your time or your finances may be, be moved to action and trust GOD to give the increase!